Issue #426 – Sept 10th 2015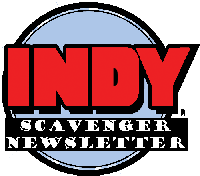 Upcoming Deadlines
*Issue #88 Deadline: Sept 21st. <—–!!!!
*Don't forget: Get your ADS turned in for next issue!
*You can send in news releases to: news@indyfestusa.com!
NEW ISSUES… By Ian Shires
The Weekly Newsletter concept for the SPA started way back in 2003, and is something that changed and evolved with he times. We're going to be re-launching into the concept in the coming weeks, in a headline-driven "What's new in our network" format, with little editorial opinion to get in the way. We hope you'll like it. I'm going to get this started, and in weeks to come, Ellen will be prepping the body of these.
To start our new format off, we've got the new issue of Indyfest Magazine, ready for you to DOWNLOAD NOW. We've got  Run Downhill's T.J. Troy, Plus Interviews with Chuck Dixon, Jay Mooers, and S.A. Baker. Sneak Peeks of Sons of Fate, and the novel Winterbourne.
Action Lab has a slew of new titles that just hit stores, welcoming you to their Danger Zone.
Alex Robinson moves back into the limelight with his new Graphic Novel, called Our Expanding Universe…coming to stores everywhere soon!
Oni Press also has a bunch of indy goodness going out to stores right about now, and we encourage our readers to see if their local brick and mortars are carrying this stuff!
And before anyone starts thinking you have to be going out to stores through diamond to get into this newsletter, or be interviewed in our magazine, please remember: we can only cover and promote what YOU send to us. I – Ian Shires – grew up making minicomics and trading in the pre-internet network with other people making small press stuff. We want to be covering EVERYONE on equal footing. If we all get into it, we can make this Indy Scavenger Newsletter a real gateway into Small Press Goodness. Forward this newsletter to friends, make sure they GO HERE to subscribe so they can get this each week.
This week's FEATURED ADVERTISER

(to sponsor this newsletter for just $5- CLICK HERE)
---
Thank you for your time reading this newsletter. Don't forget, we're already hard at work on the NEXT issue of Indyfest Magazine – #89. And beyond. We hope you will make it a serious part of your plans for letting people know what you are up to, creatively.
Write us! newsletter@indyfestusa.com
We strongly advocate – know who you work with! Google people before you work with them!
All material (c) 2015 Dimestore Productions – P.O. Box 214, Madison, OH 44057