Issue #425 – May 1st 2015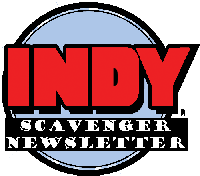 Upcoming Deadlines
*Issue #85 Deadline: May 18th. <—–!!!!
*Don't forget: Get your ADS turned in for next issue!
*News releases from Publishers at NETWORK NEWS. You can send in news releases to: news@indyfestusa.com!
Saying Nothing… By Ian Shires
This is going to be the LAST Indy Scavenger Newsletter that I spend any time editorializing. I've come to the conclusion that while YES, the information I try to get out is important, I tend to get long-winded, and I have other ways I can get the word out these days. So while the basis of this newsletter for all the versions we've gone through since 2001 when the Weekly SPA Newsletter began has been with me saying stuff. It's truly time to let the work speak for itself. Whose work? Everyone's. Starting next newsletter, gone will be ME, here will be links to news releases that YOU send in that have been posted on our news site. That, and we want to start listing ALL new publication releases that we can, and how and where to get them. So, I'm going to say one last thing. If you publish something and you don't let us know about it directly, you will be losing out on literally 1000's of eyes that follow our newsletter potentially seeing your news and new books. Send us information, we will blast it out in a way people can focus on. That's all. Good day.
This week's FEATURED ADVERTISER

(to sponsor this newsletter for just $5- CLICK HERE)
---
Thank you for your time reading this newsletter. Don't forget, we're already hard at work on the NEXT issue of Indyfest Magazine – #81. And beyond. We hope you will make it a serious part of your plans for letting people know what you are up to, creatively.
Write us! newsletter@indyfestusa.com
We strongly advocate – know who you work with! Google people before you work with them!
All material (c) 2014 Dimestore Productions – P.O. Box 214, Madison, OH 44057