Issue #427 – March 21st 2015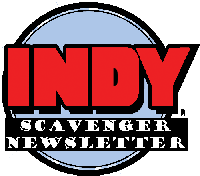 Upcoming Deadlines


*Issue #95 Deadline: April 15th. <—–!!!!*Don't forget: Get your ADS turned in for next issue!
*You can send in news releases to: news@indyfestusa.com!
Getting Involved… By Ian Shires
In an effort to start rebuilding the community feeling that the SPA has always striven to build, I am turning back to the newsletter concept to reach out to our website members. We were a tad late releasing Indyfest Magazine #93 due to my ankle surgery, and the deadline for #94 passed with little notice. I wanted to let everyone know, if you wish to get any ads, free, or otherwise, into #94 – it's not too late. I am going to begin work on the issue this week, so if you want to hit reply to this email and ask about getting an ad in, please do.
We are also in serious need of bringing in new interviewers, people who are interested in being given a lead, and conducting the Q&A that makes Indyfest Magazine fresh and interesting month after month. We are open to ANYONE interested in participating, and offer free advertising, and free membership upgrade in the SPA to help compensate. We will be running a funding campaign soon to try to raise the funds we need to make interviewers a paid position. Your activism and support now will make you a part of the developing action. Again, just reply to this mail and we'll get you involved!
Final thing – we're not sure if everyone realizes, that as members of Indyfest, you ALREADY have a full social media set-up where you can post things about what you are up to, add friends to your friends lists, and much more Check out your Profiles when you log in, fill them out! Use them. We're going to be highlighting and making this aspect of Indyfest more front and center soon. As always, if anyone out there wishes to take a more active role in developing what we're building with Indyfest, let me know and we'll get you into the tools you need to accomplish things and help the network be better and have it help you more in return.
---
Thank you for your time reading this newsletter. Don't forget, we're already hard at work on the NEXT issue of Indyfest Magazine – #94. And beyond. We hope you will make it a serious part of your plans for letting people know what you are up to, creatively.
Write us! newsletter@indyfestusa.com
We strongly advocate – know who you work with! Google people before you work with them!
All material (c) 2016 Dimestore Productions – P.O. Box 214, Madison, OH 44057