Issue #424 – January 20th 2015…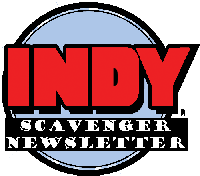 Upcoming Events/Deadlines
*Next issue Deadline: January 26th. <—–!!!!
*Don't forget: Get your ADS turned in for next issue!
*Self Publisher #81 (February Cover) is under construction, will be released in MID-FEB.
*News releases from Publishers at NETWORK NEWS. You can send in news releases to: news@indyfestusa.com!
Prepare to Launch… By Ian Shires
Three years ago, we re-launched Self Publisher! Magazine by announcing it in a pamphlet giveaway at the 2012 SPACE show. Since then, the magazine has been steadily growing in strength, featuring a wide variety of talented creators in small press, self publishing, doing comics, books, music and even movies. We are, right now, in a transformation stage from the magazine that we have been, to something much different. The Indyfest experience is going to be much different than anything I've ever been able to put together before. It will take some time for the true size and scope of it to really take hold. For it to show how it is different than what we've done before, and what others are doing, anywhere else.
We are going to put together a pamphlet giveaway for the 2015 SPACE show. I'm getting ready to write the text parts of it right now. This will be given away to every person we can get a copy into their hands at the show. It will be promoting the reader-side aspects of the news and new publication listings and otherwise enticing people to check out the magazine. Publishers – here's where you have an opportunity. If you buy an advertisement in this booklet, you will be helping us print the thing AND – you will be getting your add into the hands of people who buy indy publications all the time. The SPACE show is 100% small press creators, it is one of the largest shows of it's kind. Spider-man will not be walking around to distract people.
Frankly, if you can't be at the show, this is the absolute best way to still reach the audience, and get people interested in what Indyfest is all about: Being a 24/7 extension of what a show like SPACE does – bringing a spotlight to the indy scene. We're going to keep it very simple for ads. It's going to be a digest size booklet, so a full page will cost $40.00. A Half Page will cost $25.00. And we'll do a banner sized ad (like the one here in the newsletter) for $15.00. We will be continuing to bring ads in until March 16th, at which time we'll have to cut off and get the book printed with whatever we have raised. This advertising will be a separate thing from regular magazine advertising. We MAY be able to use some of the ads for this in the magazine to fill space on the system we use for free ads in the magazine, but there will be no unpaid ads in the booklet.
This effort is designed specifically to reach the audience. We hope you will support it. The more copies we are able to print, the better. Why? Because we will not leave the convention bringing home copies. If we have given a copy to every person there, and still have copies, guess what, we KNOW there will be publishers and retailers there willing to take copies back to their local areas to give away, so the reach of the booklet won't just be the show, but indy friendly stores as far and wide as Chicago, Detroit, Pittsburgh, Cincinnati, Cleveland. When we did this with the SP! booklet, we gave away about 300 copies, and it launched SP! Magazine into the monthly presence it has been. We think, and hope, we can do better with the Indyfest booklet, and targeting readers instead of publishers. This is a huge opportunity to grow. It needs YOU. Send an e-mail to Ian@indyfestusa.com to get into this effort.
This week's FEATURED ADVERTISER

(to sponsor this newsletter for just $5- CLICK HERE)
---
Thank you for your time reading this newsletter. Don't forget, we're already hard at work on the NEXT issue of Indyfest Magazine – #81. And beyond. We hope you will make it a serious part of your plans for letting people know what you are up to, creatively.
Write us! newsletter@indyfestusa.com
We strongly advocate – know who you work with! Google people before you work with them!
All material (c) 2014 Dimestore Productions – P.O. Box 214, Madison, OH 44057