Issue #423  –  Indyfest Begins – January 12th 2015…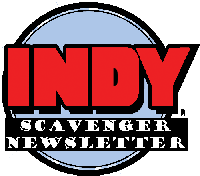 Upcoming Events/Deadlines
*Next issue Deadline: January 26th. <—–!!!!
*Don't forget: Get your ADS turned in for next issue!
*Indyfest Magazine #81 (February Cover) is under construction, will be released in MID-FEB.
*News releases from Publishers at NETWORK NEWS. You can send in news releases to: news@indyfestusa.com!
Time for some news… By Ian Shires
Well it's 2015. And actually, we're already halfway into January, so this year is already rolling on. It's time for the Self Publisher Association to do the same. Many of you reading this will remember, we've had some form of weekly newsletter going on and off for, well, all the way back to 2002 and the yahoo group. We didn't start keeping track of issue numbers till just after Christmas 2003. We called it the Kickstart Newsletter back then, there was no Kickstarter site…we changed names years later when it came along and people started getting us confused. I kinda like the name I've settled on for the newsletter. But the real judges are YOU. Feel free to let me know.
I'm basing this set up very much on our old one, but we will be making more changes to it. What I want to do is help focus people onto the tools we've put in place for the new Indyfest Network. We have Hubs set up, so readers looking for news, know where to go. People looking for events, know where to go. We are working to finish up and have additional Hub spots in the network, that will focus on different aspects of what readers are looking for to make it easier for them to learn about whats going on in this field. This set up will allow creators to come, plug in to the network any bits and peices they use – so no matter what printers, outlets, they have chosen to work with, it will be promote-able in the system. We are going to further work to better integrate with whatever we can moving forward as well. But at this point, we need people to actually start looking at and using what we've got going. It is time for us to shift from that Alpha stage we've been in, to an active Beta one. And so, this is the first call out to everyone. Let's get NEWS focus running. You can visit the news hub here:
See what people have sent us as news so far, SEND US YOUR NEWS, and use the social media links there to SHARE stories you find interesting! It is those parts of the puzzle that will make this network a POWERHOUSE in getting the word out. Sure you can post your news yourself on social media, and do your best to connect with people…but, the same post, being shared by multiple people because they found it on the indy news site…THAT is how stuff goes viral. If we all work to make a place that focuses interest, we all win. We have been watching as people continue to fall into the trap of facebook diminishing returns, and this is the answer to turning it around. I've spent the last almost six months building it, now it's time for you to make it work, by using it. Absolutely zero cost to post your news, let's hear from you today.
This week's FEATURED ADVERTISER (to sponsor this newsletter for just $5- CLICK HERE)

---
Thank you for your time reading this newsletter. Don't forget, we're already hard at work on the NEXT issue of SP! – #78. And beyond. We hope you will make SP! a serious part of your plans for letting people know what you are up to, creatively.
Write us! newsletter@indyfestusa.com
We strongly advocate – know who you work with! Google people before you work with them!
All material (c) 2014 Dimestore Productions – P.O. Box 214, Madison, OH 44057