Issue #428 – May 21st 2018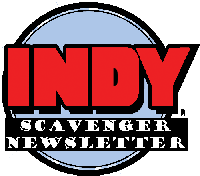 Upcoming Deadlines
NONE – but we'll be getting Indyfest Magazine AND Self Publisher! back in action soon….
*You can send in news releases to: news@indyfestusa.com!
Re-Start Button… By Ian Shires
So, the last time I actually sent out an Indy Scavenger newsletter was in March 2015…and logic says, dude, even if you want to dust off the name and start rebuilding Indyfest…start with a #1 and make it a real fresh start. Unfortunately, my brain has never worked that way, and I think there is value to the fact that The Self Publisher Association, which became Indyfest in 2012…combines for over 400 weekly newsletters, even with a couple breaks in the schedule.
The question really, is…what are we going to do to make this continuation/fresh start…special enough for you to want to follow it? Basically, I want to do it in a sort of "Ian reads the headlines" mode…so publishers send in news releases that we put up on our news site, or even just links to their latest news in a blog post on their site…however they want to do their news…then I'll get the links to the most interesting stuff, out to the readers of the newsletter, each week.
So if you're ready, publishers…Start sending news releases or links to articles about you, to News@indyfestusa.com  – and next Monday, I'll start that up!
We are working towards the re-start of Indyfest Magazine, AND throwing a new twist into the mix, Self Publisher! Magazine is going to return as well…with a focus more on the publisher – and I plan to experiment a bit with that, and who knows we may add more zines to our mix later, instead of trying to be one zine that covers every need…we're going to try to be a family of focus points that help bring fans of new and different, into a world designed to encourage checking things out.
---
Thank you for your time reading this newsletter. We hope you will make it a serious part of your plans for letting people know what you are up to, creatively.
Write us! newsletter@indyfestusa.com
We strongly advocate – know who you work with! Google people before you work with them!
All material (c) 2018 Dimestore Productions – 1546 Yale Ave, Madison, OH 44057